---
Last summer we looked at China's celebrated Traffic Elevated Bus (TEB) – but where is it now, and what happened to the project?
Last summer the Traffic Elevated Bus (TEB) was touted to be the futuristic solution to urban traffic jams – we loved the concept – but it appears that rather than reducing traffic jams, the bus has caused them.
According to The Shanghaiist the bus was left abandoned in the middle of a Hebei city road a few days after launch and was only moved by police at the start of this month.
What's worse is that it looks like the whole project was a scam; Shangaisst reports that "the Huaying Kailai, the parent company of TEB Tech, raised billions of yuan in funding through peer to peer (P2P) investing, but had only spent less than 200 million yuan on the project itself".
It appears that not only did the parent company exaggerate the project at launch with an unrealistic (300m) test run and no real-life traffic conditions, but they didn't even notify the authorities in Qinhuangdao city. The People's Daily reported that officials had no idea the even had happened until it was reported in the press.
Several Chinese government departments, which the TEB has stated they were working closely with then refused to acknowledge their relationship with the project. This included the municipal development and reform commission in Qinhuangdao and Shanghai Jiaotong University.
By the end of 2016 the TEB could be found to be sitting in the garage gathering dust and blocking traffic – it had not moved in months. When the two security guards assigned to protect were approached by a local reporter they said that they had been forgotten about by the company.
At the start of June, the government of Qinghuangdao refused to extend the TEB developer's land contract for the test track which was scheduled to expire in July. Workers have begun demolishing the track as the "straddling bus" sat in its garage nearby, awaiting its fate.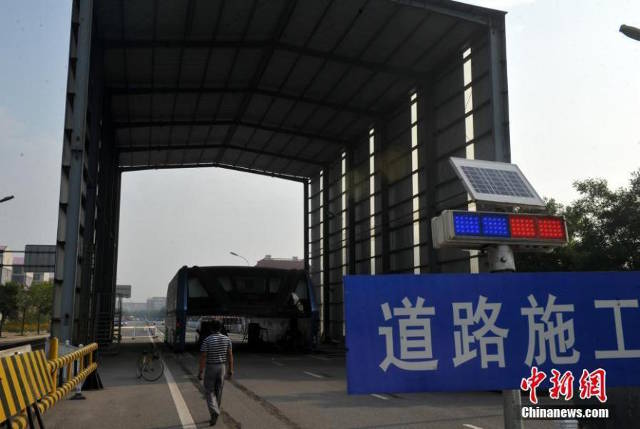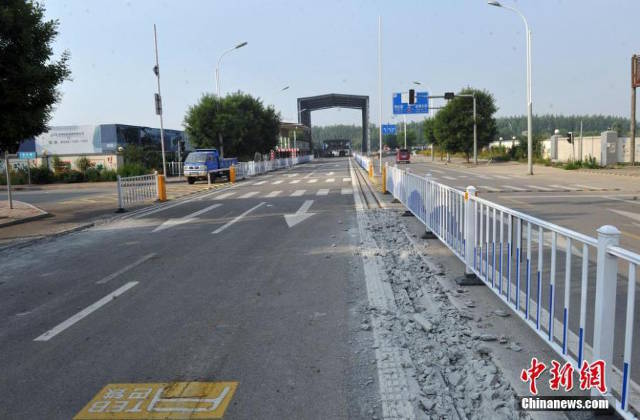 The final nail in the coffin for the dream of the straddling bus came at the start of this month when police investing the scam removed the bus from the remains of the test track.
Police have since detained 32 for "illegally raising funds to finance the TEB" and 72 investors have filed complaints with the police in an attempt to get their money back from the company behind the scheme.
Finally, to rub salt in the wound, it has been pointed that the Transit Elevated Bus would only ever been able to run on tracks; and therefore was not even a Bus but a train.