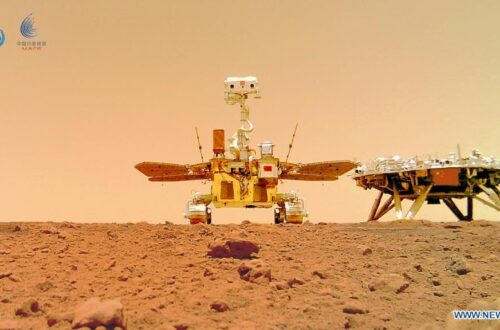 ---
China has revealed a new series of photos of Mars from the Zhurong Mars rover.
Announced by state-owned news outlet Xinhau the images came alongside a statement that their release "signifyi[es] the complete success of China's first Mars exploration mission".
While the tone is grandiose compared to how NASA or the ESA report their missions; it is still a huge achievement. It took NASA over twenty-five years to go from orbiting Mars to landing. China managed it in a single mission (though – of course – China has been able to build on the technological success of NASA since the 1970s).
Above – Lander and rover posing on the Martian surface.
The shot was taken by a remote camera planted by the rover as it explored its immediate surroundings.
Above – a panorama of the Utopia Planitia region of Mars
Above – a closeup of the ground around the lander.
---
The rover will now undertake a series of experiments to search for evidence of ancient life on Mars. China expects the mission to continue for at least another three months.